"The first sunrise of the unsealing of the Special Economic Zone"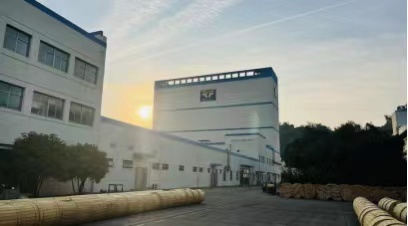 2022 is a challenging year for Wasin Fujiura. From August to October of this year, facing with the dual challenges of power rationing and a new round of pandemic, all Wasin Fujiura staff cheered up each other to overcome the difficulties, and finally achieved the double victory of "power rationing without interruption of production and staff reduction without production reduction".
Different roles have the same mission.
On October 25, COVID-19 broke out in the economic development district of Nanjing. Combined with the government's anti-pandemic policy and the actual situation, Wasin Fujikura's Warehouse quickly made adjustments to its business arrangements. In order to ensure the continuous development of production tasks and timely delivery of products, company leaders immediately decided to start the closed-loop mode of optical fiber production. With the full support of Nanjing Economic Development Zone and all staff, the company immediately set up a closed-loop management team for pandemic with Mr. Wei Li as the leader and Mr. Yang Yang as the Deputy leader. Wasin Fujikura also set up a logistics support team, a Safety support team, a production support team, a Equipment support team and a logistics support team to ensure the normal closed-loop production.
Employees heared this news, volunteered to join, committed to the production defense. Even though they belong to different departments and have different positions, even though they are parents and children, at this moment, they have a common name – Wasin Fujiura.
Work together and share the burden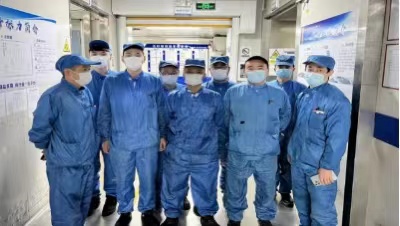 In the employees' active self-recommendation, Wasin Fujikura's warehouse according to the actual demand for production, arrange 92 warriors in the factory. More colleagues work from home but are also ready to service closed-loop production.
Upon receiving the notice of closed-loop production, the logistics support team quickly went into the early preparation work.
New temporary quarters
On-site distribution of materials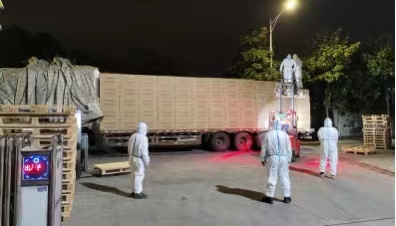 With the cooperation of all departments, the daily necessities of nearly 100 resident employees were transferred to the factory in just a few hours, and the residence of resident employees was arranged.
A hearty lunch is served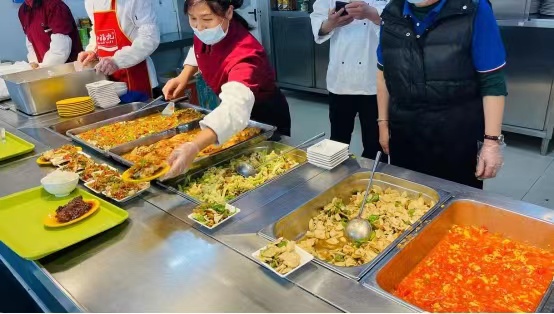 Additional breakfast supply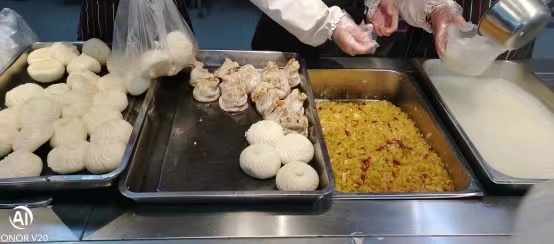 Company leaders keep close contact with relevant government departments at all times, complete the closed loop production declaration procedures as required, and cooperate with all the work of closed loop production. From 8 o 'clock on October 26th, Wasin Fujikura Warehouse officially entered closed-loop production after being reviewed, inspected and approved by relevant government departments.
The planned closed-loop production time was only 3 days, but due to the severe pandemic situation, the closed-loop production time was not only extended, and traffic control was implemented in Qixia District. In the face of the extended lockdown time and shortage of materials, the staff of Wasin has faced a new test. How to do a good job in psychological counseling of employees? How to ensure the production materials arrive at the factory on time? How to deal with the shortage of closed-loop manpower? In the face of these questions, Wasin people once again showed the correct attitude of mutual help and hand in hand. Employees in the closed loop overcame physical discomfort and psychological anxiety to stick to their posts, and employees in different departments broke the boundaries of their posts and joined the frontline. Production staff incarnate as pandemic prevention personnel, material handling personnel; Quality inspection personnel incarnate as warehouse personnel. Leadership colleagues outside the closed loop are more concerned about the staff and production situation inside the closed loop all the time, and the working group of the closed loop group often discuss or pass on information until the wee hours.
On-site equipment inspection is carried out in an orderly manner
Induction furnace put into operation steadily
With the continuous increase of the closed-loop time, the staff in the closed-loop circle have been working two shifts for one week. The staff outside the closed-loop circle know the exhaustion of the field staff through wechat group and phone contact, and all of them have volunteered to enter the closed-loop circle as soon as possible to replace the current staff.
"Leader, I have been negative nucleic acid for 3 days in a row, tomorrow will definitely turn green code, can I go to the company tomorrow?"
"Leader, the family has arranged, I go to the company?"
"Leader, how many more days to go to the company?"
Every day I hear these warm words. Finally after layers of approval, special approval of the optical fiber production of the second echelon is about to go to the closed-loop line, they have young technical backbone Yan Rui, drawing technician Li Hongjun, drawing site supervisor Chen Menghu and other excellent management and technical personnel. Chen Menghu before leaving home, his daughter said to him: "Dad, you are my heart retrograde hero!" Before leaving, the daughter hugged her father affectionately. Yes, all our soldiers who stand on the front line are the reverse warriors in the battle against the pandemic.
Through the unremitting efforts of all the resident staff and the closed-loop management team of Wasin Fujikura Warehouse for more than ten consecutive days, the hard-won results of the battle against the pandemic were finally achieved: more than 80W kmf of silk was produced during the closure period, and the products were delivered as scheduled and with high quality under challenging circumstances.
The city slows down, virus tracking speeds up. The short "rest" is for faster "action". For us, producers, the pandemic is like a big test.
"Special Zone" unsealed, war "pandemic" warriors safely home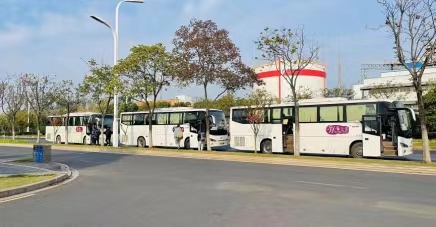 Under the test of "space" and "time", with the support of front-line staff and the joint efforts of all colleagues, Wasin Fujikura Warehouse actively cooperate with the policies and arrangements of the superior authorities, resolutely win the battle against pandemic prevention and production protection with indomitable courage, unprecedented responsibility and indomitable perseverance, and strive to sprint the annual target tasks.
In the post-COVID-19 era, we will go through more tests.
This collective response, may wish to regard it as an experience, summing up experience, looking for deficiencies, improvement is our required course. In the post-pandemic era, how to ensure maximum output with minimum costs and costs should be a research topic, and response plans should be regularized and institutionalized, frequently used and constantly updated, and constantly improved.
---
Post time: Jan-29-2023